WARNING: This post is picture heavy! =P
I'm currently doing a lot of hauls because I am still building my kit. Doing it little by little so it doesn't hurt my wallet that much =P Anyway, I believe that brushes are an investment and might be one of the most expensive items in a makeup artist's kit. Also, I'll need a variety of brushes and backups so apart from my first brush set, Charm Pro, I bought the Real Techniques Brushes from Armie via her Multiply site
Carefreeshopper
.
This is not my first transaction with her. I'm so glad I came across her online store. Transactions were a breeze. She responds promptly to her clients' queries and never fails to deliver. =)
Now, onto my brushes. They arrived on a holiday via LBC which just made my day. Yay! Never knew LBC ships on holidays. So, they arrived looking like this. Very happy with the bubble wrap because not only does it keep my lovely brushes safe but also I have a lot of bubbles to pop! =P
Real Techniques is the brainchild of Samantha Chapman (
Pixiwoo
). These are synthetic brushes that are color coded based on function. Orange is for base, pink is for finishing and purple is for the eyes. Since I enjoy using creams and liquids I have to include synthetic brushes in my kit. There's a lot of posts available online regarding these brushes so I will not do an in depth review. What I love about these brushes is that they feel so soft, almost like natural hair but better because they are synthetic. Each brush does exactly what it's supposed to do and performs really well with creams, liquids and even powders.
Here are the brushes in their respective containers. I initially didn't want to take them out of their boxes. =P
And here they are free at last. =P First row are the Core Collection (PhP 1,150), Expert Face Brush (PhP 695) and Powder Brush (PhP 695). Second row are the Blush Brush (PhP 695), Setting Brush (PhP 650) and Stippling Brush (PhP 695). Third row are the Lash-Brow Groomer (PhP 495) and my two pink brushes standing next to a 100ml perfume box for size comparison. Yes, the individual brushes can stand on their own which is brilliant. =)
The core collection comes with a brush case/stand that can also hold additional brushes as seen here. The Core Collection consists of a Detailer Brush, Pointed Foundation Brush, Buffing Brush and Contour Brush. I love all of these brushes because they are so versatile. For example, the Detailer Brush can be used for spot concealing or as a lip brush or even for highlighting the inner corner of the eye. Also, I find the Lash-Brow Groomer great since it has a metal lash comb rather than plastic which I usually break. =P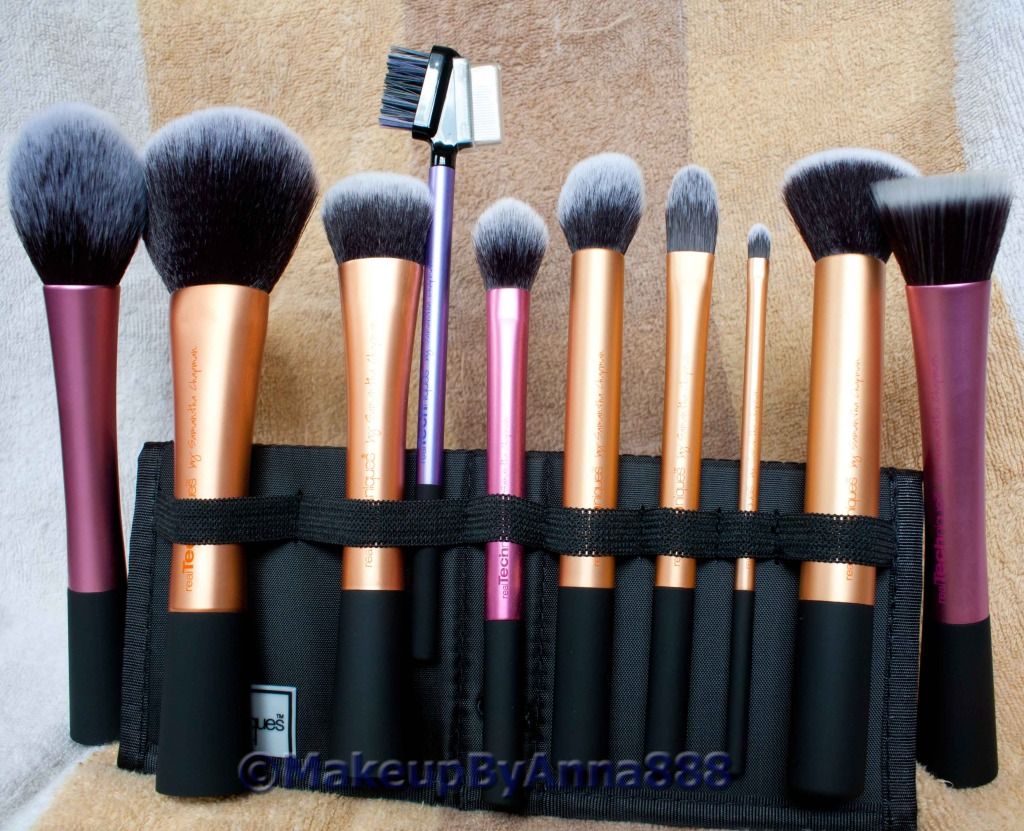 Oh, did I mention I got a freebie along with these brushes? Will share it in my next blog post. =) xoxo