It was a very stressful week and a huge part of it is due to work. But since I've solved the issue that's been bugging me for weeks I can now continue blogging. Yay!
I think it is also due to stress that I've unintentionally ruined my foundation brush, I must be releasing my tension while cleaning it that it started shedding a whole lot. This is really bad news for me because I use my Charm Pro Foundation brush every time I apply foundation. Major bummer...
Last Sunday I chanced upon a couple of inexpensive brushes while at SM Supercenter Pasig. Hubby and I had a few hours to spare while waiting for our dogs get groomed at Tiendesitas so we decided to check out the nearby mall. Plus, it was sweltering hot that I grabbed the chance to stay in an airconditioned environment =P
I've been seeing mixed reviews about the Marionnaud Foundation Brush (available at Watson's for PhP139) so I tried looking for it at the mall just to see for myself. My first impression was that it looks very similar to Make Up For Ever's foundation brush which I love. But upon opening the package I know it is very far from MUFE's. It is not as heavy and the brush head on Marionnaud's is more dense in comparison to the MUFE version. Also, this is smaller.
With that said, it doesn't mean I don't like it. I do like it. I didn't expect it to perform well with it's price range but quite surprised that it actually applies foundation better than my Charm Pro, in my opinion. It's just that I prefer my foundation brush to have finer synthetic hair and the entire brush head a bit less dense. Also, love the fact that they used black fibers.
Downside with this brush is that I find it difficult to blend my foundation which I think has something to do with it being quite light that makes it difficult to maneuver across the face. (Oh well. that's just me.)
Also, I read somewhere that they hate this brush because it leaves streaks. My personal opinion on this is that all foundation brushes that are quite dense and have thick bristles will leave streaks. This is quite true with this brush but it depends on the amount of foundation applied. Also, streaking can be easily remedied by patting the brush on the streaks or by blending with a sponge. So, yeah... I like this brush. =)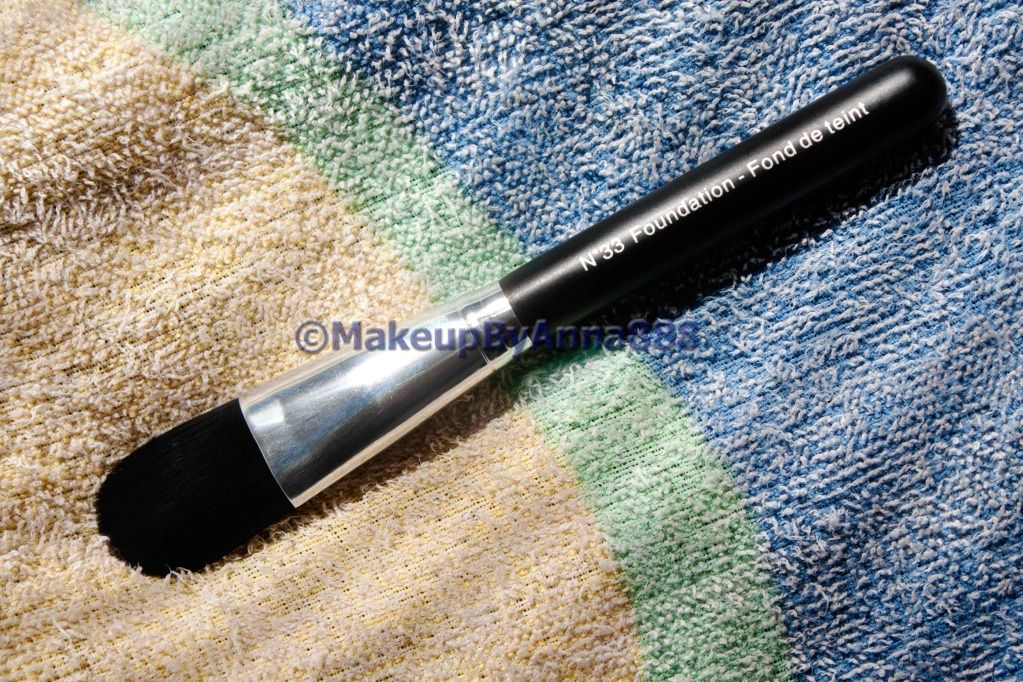 Moving along... I was checking office chairs at Office Warehouse when I saw this artist brush and... "Lightbulb!" (spoken a la Mr. Gru) hehehe =P Not sure if this is meant for Chinese calligraphy but I'll be using it as an eyeliner brush. I already have the slanted and bent eyeliner brushes from my Charm Pro kit but the weird person in me finds it easier to use the normal straight, pixel-point eyeliner brush. Plus, it is priced at PhP18!!! That's ridiculously cheap!
I've been using these two for the last few days and I don't regret purchasing them. Hope they withstand the use and abuse hehehe but that's another story. =)