The other items in my NYX haul are the NYX Jumbo Eye Pencils (JEP) which cost PhP220 each (bought from
Digital Traincase
). These are so versatile they can be used as eyeliner, cream eyeshadow or eyeshadow base. I've learned about these pencils from several beauty bloggers and vloggers. The most popular JEP is the white one aptly called "Milk". And most of the time this is used as an eyeshadow base rather than as an eyeliner. I got a white (Milk) and black (Black Bean) JEP.
Main reason why I bought these pencils is I needed an eyeshadow base to help eyeshadows show up properly in photos especially when I'm using flash. Since I'm awake mostly during the afternoons up to the wee hours of the morning, I rely heavily on my external flash when I'm taking pictures for this blog. And flash photography washes out color so I have to use something to make colors "pop".
Milk Black Bean
I have swatched them at the back of my hand and took pictures using different lighting setups. At first I thought these have a matte finish but they don't. They are very creamy and easy to blend. Pigmentation is superb. I just noticed Black Bean has this sheen that it looks quite greasy. Here I have swiped them once and smudged the bottom just to see how it looks like when blended out. I guess I'll need to layer the product and build the color if I wish to use them alone as cream eyeshadow. (But I don't think it's possible to do this in humid weather as they don't really set)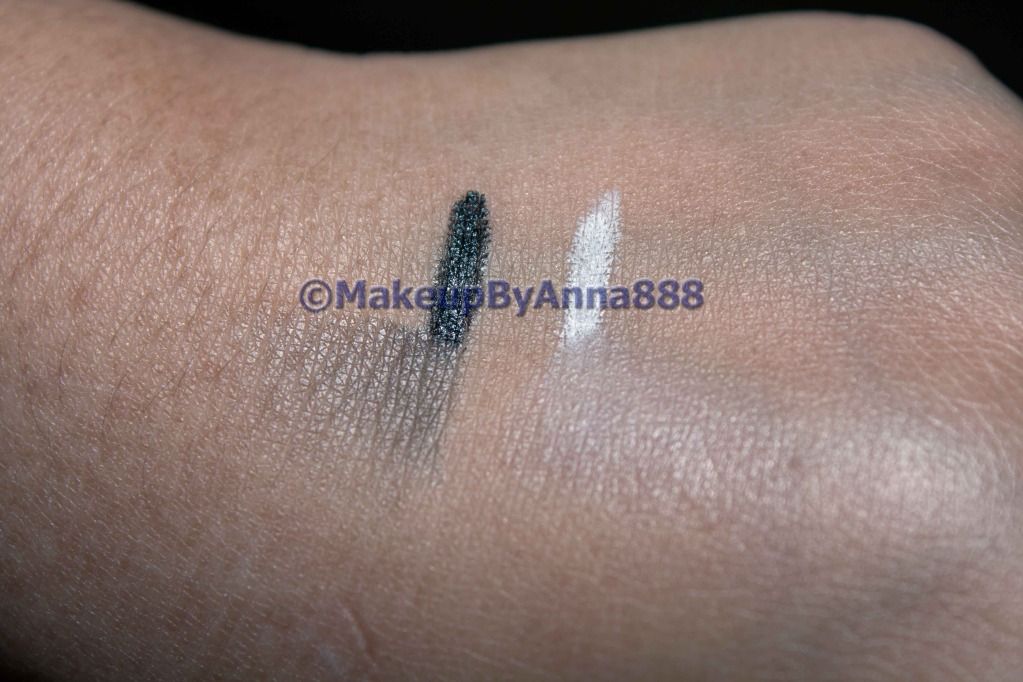 Here I used Milk JEP as eyeshadow base and patted on a shimmery peach eyeshadow (Right). The swatch on the left is just the eyeshadow without any base or primer underneath. Notice that the color shows more when the e/s is applied over Milk. However, it seems the JEP has toned down the shimmer.
I have then tried using Black Bean JEP as e/s base and patted on top a satin brown e/s (Right). Again, the swatch on the left is just the e/s. Black Bean JEP deepens the color of the e/s used and due to it's "greasy" finish it gave a subtle sheen.
I can say I am quite happy with my JEPs because this solves my problem with flash photography. Although it is still a matter of preference whether I prefer color over shimmer but overall I find this a great product. Other beauty gurus warned about creasing so I just need to remember to apply a thin layer when used as an e/s base and since I've got oily lids I will layer this on top of my favorite Urban Decay Primer Potion just to be sure.
Also, I will try to buy all colors available!!! hahaha =P Found some vlogs about melting these and putting it in a pot. Would like to try that but I'm quite scared it might change the product and I end up regretting it... just like what I did with a bunch of Clinique lipsticks... there is this particular color that never solidified after melting =(
Oh well, that is another blog post =P Have you tried melting your own JEP? Tell me about it =) xoxo