My husband planned to buy some PC parts at the Eton Cyberpod E-Life Bldg. 1 last week and he recalled me mentioning the store
Beauty and the Geeks
which happens to be in the same building. He knows how much I love makeup and is very supportive of my cosmetic addiction so he asked me to jot down things I wished to buy and he bought them for me =) (He even called me up when he got to the store to check if I wanted to add some more to my loot but they were all sold out so I settled with the items on my list.)
I realized that I have too many nude/pinky brown lipsticks but lacked bright, colorful ones. I've been eyeing a lot of NYX lippies and can't decide which to get first. Then I came across their new lip products that seems to be a cross between lipgloss and lipstick. I personally prefer lipglosses because I find them easier to apply when I'm out and about, no need for a mirror hehehe =P (Skill that I've learned when I'm doing a sneaky retouch) =P
So I ended up getting two of their Xtreme Lip Creams (Strawberry Jam, Absolute Red) and a Soft Matte Lip Cream (Milan).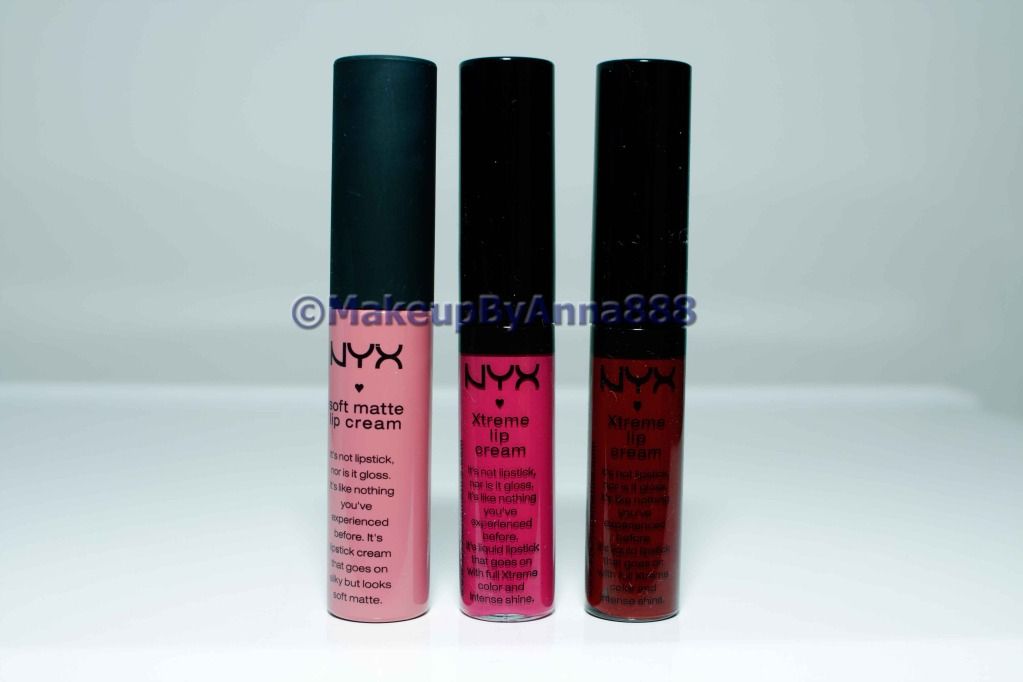 Milan - Strawberry Jam - Absolute Red
I know they've been out for a while and I'm late in joining the bandwagon. I was actually too distracted and overwhelmed with the wide variety of NYX products available that I haven't really decided which to get first until my husband egged me to do a wishlist. Giving me access to inexpensive but good quality products
is like putting charcoal to a fire pit...
Here are the swatches: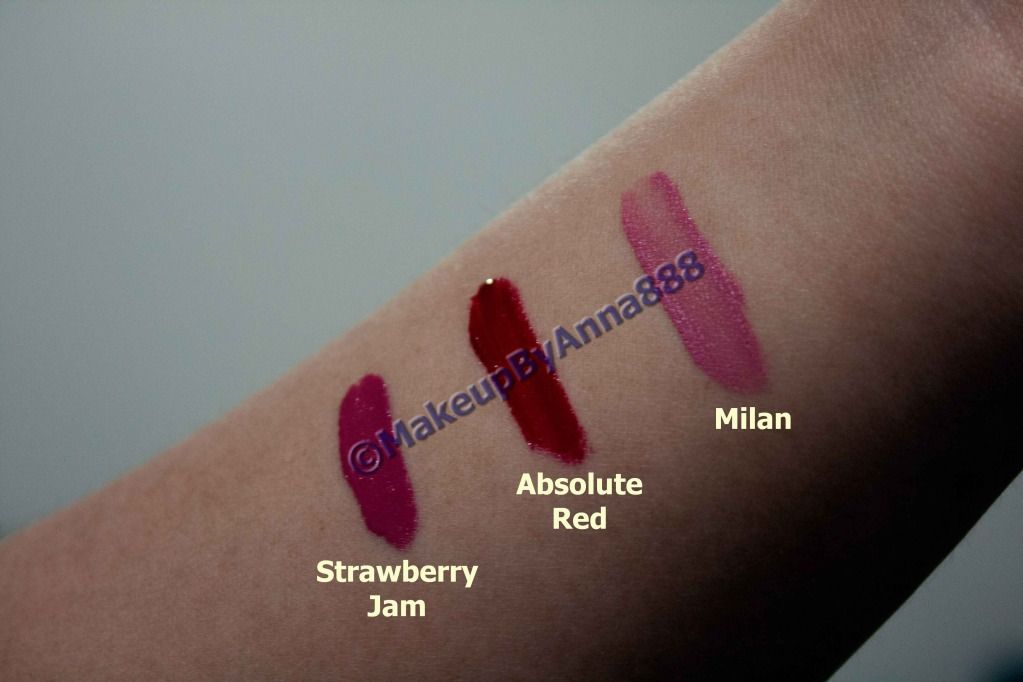 The first two swatches from the left are the NYX Xtreme Lip Creams and the last one is the NYX Soft Matte Lip Cream. Overall, these lip creams are quite thicker in texture vs. the thin, runny texture of most lipglosses. The opacity is similar to lipsticks. These are very pigmented.
I find the Xtreme Lip Creams quite sticky at first but I'm amazed how they stayed put even after eating and drinking. I noticed they left a bit of stain as they faded which is good because I still got some color on my lips and not some weird outline. One thing I find annoying is that they bleed so there is still a need for lipliner to prevent that. Also, these have a really shiny finish so I have to matte out the rest of my face so that I won't come off as a shiny disco ball. I also tend to apply too much product so I need to blot out the excess to avoid getting them on my front teeth =P
The NYX Soft Matte Lip Cream is quite the opposite of their Xtreme Lip Cream. They are not sticky. They are not shiny hence the name matte but they also feel velvety on the lips. I love the fact that this is not too drying on the lips but there is a need to prep the lips prior to application. Since this will definitely emphasize any dryness and flaking of the lips due to it's matte finish it is highly suggested to exfoliate the lips and moisturize prior to application. Unlike the Xtreme Lip Creams, I can use the Soft Matte Lip Cream without a lipliner as it doesn't bleed nor does it transfer to my teeth. Can I just say I really, really love this on my lips!!! hehehe But this is not as long lasting as the Xtreme Lip Cream and I find it can withstand drinking but not the main course =P
Overall, I love these NYX lip creams and I will collect all colors available!!! (In batches of course...) And they cost PhP290 each... amazing! One thing I try to ignore is the scent and flavor of these lippies. I can't even exactly describe how they smell and taste like. It's like sweet plastic?! hahaha at least that's what it reminds me of. But on a positive note, this will stop me from licking my lips thus making them last longer. Also, I cannot do my sneaky retouch with these because I can't afford to mess up (and look like a clown!), a certain level of precision is required when outlining the lips with these products. =)