Since the very first Revlon Photoready foundation came out I've been avoiding it like the plague. =P Honestly, the liquid foundation is just too shimmery for my oily skin. Then, the cream version came out and I actually got one for my mom. It works great on really dry skin but sadly it's still not suitable for me. Then they came up with the Photoready Airbrush foundation. Of course, I did my homework. Read a lot of mixed reviews. It wasn't really in my to-buy list. But when I saw it in person I just gotta have it! Oh, it's like a curse! I hate visiting makeup counters because they make me purchase stuff on a whim! =P
So to make the long story short, I bought this foundation out of curiosity. It retails at PhP 925 and it's available in most drugstores and department stores. I got it in the color 060 Golden Beige.
I must say the packaging is just so irresistible. It reminds me so much of shaving cream. It has the same canister packaging and pump dispenser (love it for sanitary purposes). It is lightweight and easy to carry around. I'm not scared of dropping this because I know it will not break unlike foundations that come in glass or plastic bottles. Well, that's how far the pro goes with regards to the container. Hate the fact that I cannot tell how much product is left. Hate the fact how tricky the pump works. It is very hard to control and determine how much pressure is needed to prevent product wastage.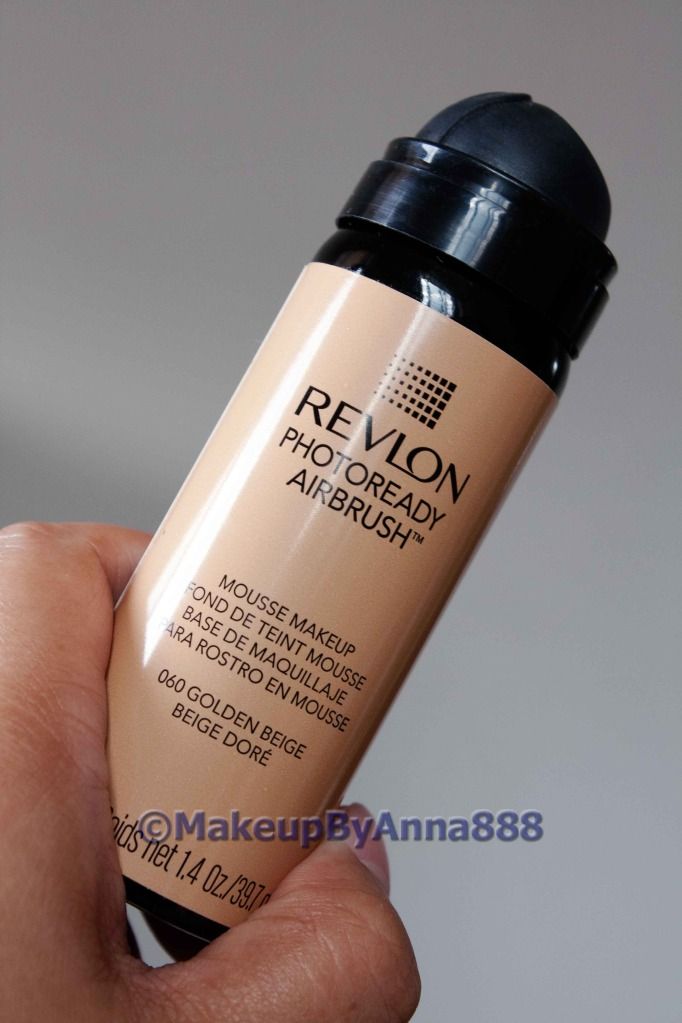 Here is how the foundation looks like. I carefully pressed the pump halfway but still dispensed too much product. It comes out thin and runny with a lot of air bubbles. No noticeable shimmery particles... yet.
Here's how it looks like blended on the back of my hand. There are still some shimmery particles but they are smaller and not as much as compared to the Photoready liquid foundation. It is very lightweight and feels like skin. The coverage starts out sheer and can be layered to achieve medium to full coverage. I prefer up to medium only. It doesn't feel tacky on the skin and isn't shiny either. It gives this soft focus effect and the shimmery particles give off a dewy effect when light hits the skin. Doesn't give a white cast during flash photography.
It isn't long lasting, I find it fades after around 4 hours without primer but set with powder. I also have to blot away my oilies every now and then. Tried using it with
NYX HD Studio Photogenic Primer
and it lasted around 8 hours but still need to blot my oily T-zone. I hate the sour scent and it stings my eyes. =(
So, do I like this foundation? Yes. Quite surprised that I actually like it even if it smells terrible and stings my eyes. The reason why I like it is because this applies and blends easily. The color that I got is a perfect match which rarely happens with drugstore foundations. I may not use this for events that require my makeup to last up to eternity but this is great for days when I have to do some errands just because I can apply this in a jiffy and I'm out of the door. =P Plus, I know I'll be home before it starts fading and my olies start showing up. =P
I know the product indicates "Airbrush" but I think it is important to point out that this is actually a technique and not something that you get out of the bottle. To get this effect, I apply this using either my
Real Techniques
Buffing Brush or Stippling brush. If I wanted more coverage then I lay it down using my Real Techniques Foundation Brush and dab with a sponge to blend it out.
Sorry for the lengthy post but I hope this review has been helpful. =) xoxo