I saw this product a long time ago (around the '90s) and nope it wasn't a female who was using it then =P It was my cousin, Kuya Arnold. He was very particular with his skin care routine and each night I'd see him rubbing his face with this white lemon-scented cream. I had no idea what it was but I know I love it's scent =P (It reminded me so much of Nivea cream in the blue tin can.)
Kinda forgot about it and life happened. Later on I learned what it was and what it's for when we started doing our own cold cream in my Pharmacy lab class in college.
It dawned on me that there's such a thing as makeup remover. =P I used to clean my face with just a bar of soap (had a long time affair with Neko and it was very effective... I wonder if it's still available in the market...)
Anyway, even if I knew what it does I still ventured into using several other products mostly facial cleansers and toners. Thought I don't need it then as I wear very minimal makeup to school. I started using makeup removers after college when I was wearing heavier makeup.
Okay, on to the product hehehe =P Pond's cold cream is a white lemon-scented cream that helps remove makeup even waterproof mascara. It is white but disappears on the skin when rubbed in and imparts a cooling sensation thus the name. It is very moisturizing. I'm not sure if this is the only size available in the market but I remember they use to come in really huge jars.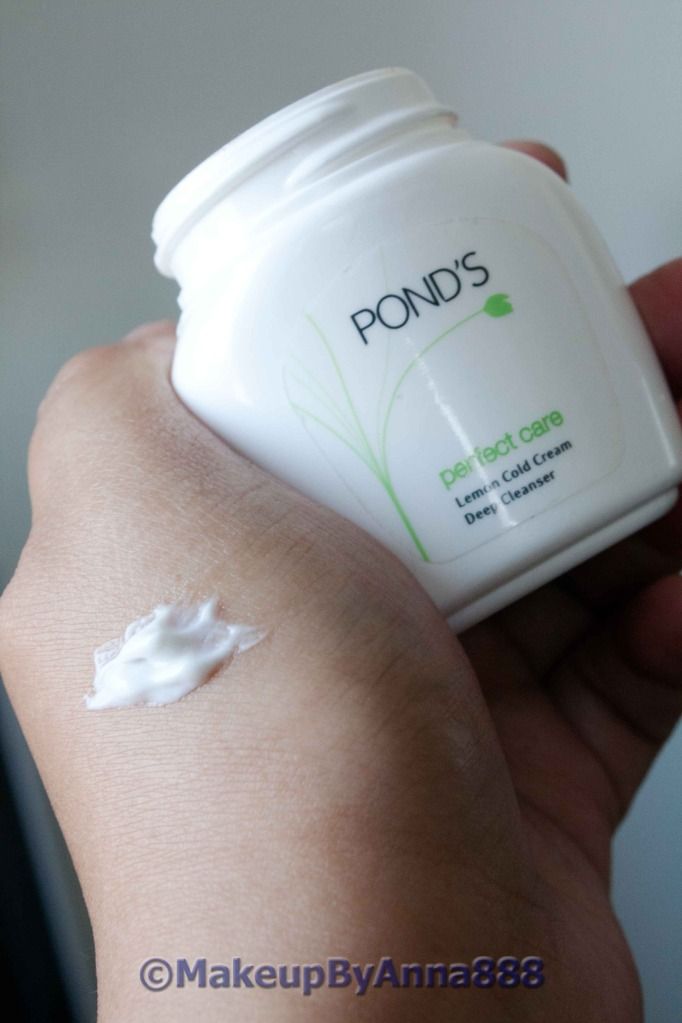 I love using this product because it doesn't dry out my skin and it lifts off all makeup and dirt without tugging. It leaves my skin feeling soft, smooth and supple. I love rubbing this stuff on my face because it smells so good hehehe =P
I find myself using this when I'm too lazy to wash my face like if I had a long day and just wanted to sleep right away. I know this is not a good habit but there are just those nights when I'm too tired.... excuses... excuses... hehehe =P (Although I haven't broken out from using this without washing, it is still best to follow up with a facial cleanser.)
This is the most inexpensive among my makeup removers and it does a really good job. I just have to make sure I use a really soft facial tissue when removing the product off my face. Also, I use a spatula when scooping out the product to prevent bacterial growth. This is available in supermarkets and drugstores. Can't remember how much I paid for it. =P Hope these still come in the large jars I used to see when I was younger. =) xoxo