Had a fun beauty portrait session with my youngest sister. I did a simple makeup on her and just had her hair on a low ponytail. This was a one-light setup using a large continuous LED light octagonal softbox and a reflector. We chose a blank wall in our living room for the background. Good thing it is white although the paint is not matte. But it's okay, it adds a bit of texture and interest to the image.
Read on to see how the images turned out. =)
There were several shots but these two images are my favorite. I'm not a professional photographer so it was quite a learning process getting the most flattering poses, camera settings and lighting configuration. But with trial and error we ended up with some pretty decent images.
As for her makeup, she requested for a dark red lip. I kept her eyebrows softly filled with Fanny Serrano brow powder and outlined with L'Oreal brow pencil. Neutral colors from my Lorac Mega Pro Palette 2 were softly blended on her eyes. Lined the upper lash line with Maybelline black gel liner while Urban Decay black eyeliner pencil was blended with a brown eyeshadow on her lower lash line.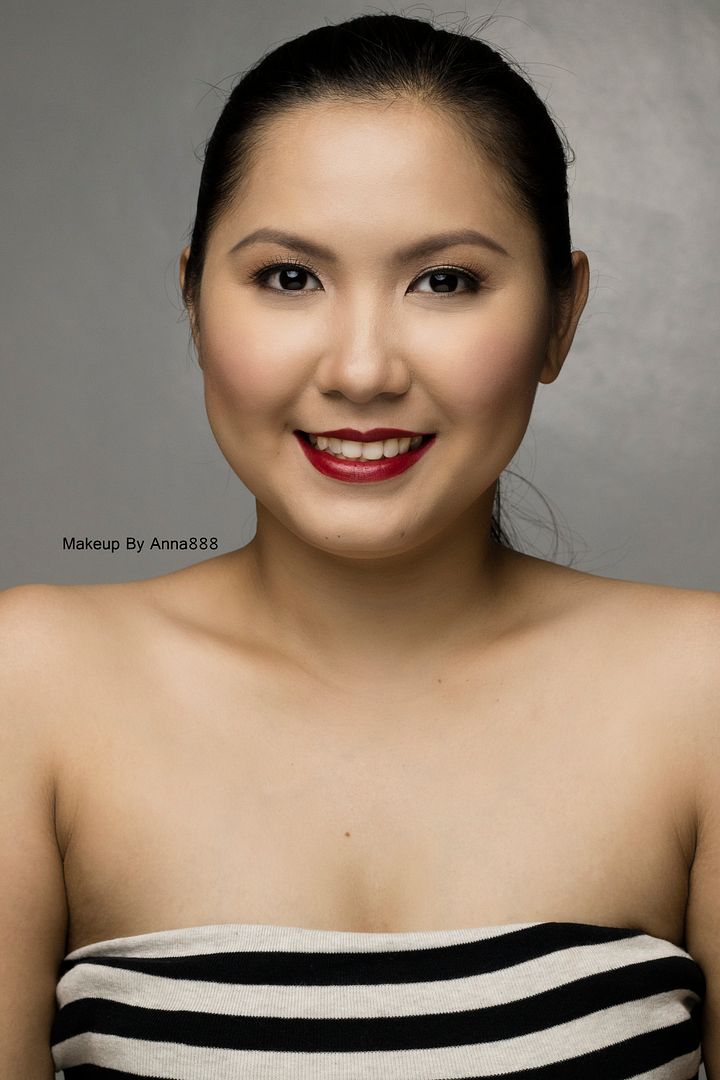 Smile
For her base, I used a mix of Cinema Secrets foundation and applied using a Real Techniques Expert Face Brush. There's not much concealing apart from using an orange corrector underneath the eyes. For highlight and contour, I used a light shade of Cinema Secrets foundation and a contour shade from my RCMA foundation palette. Then set everything using a mix of Cinema Secrets loose powder and Purely Cosmetics Diamond Finishing Powder. I can't remember the exact blush that I used on her but it is a rosy flush to match the dark red lip from my Graftobian palette.
Smize
To finish the look, false lashes were applied and two coats of Maybelline Volume Express black mascara to blend into here natural lashes which were curled using my Shu Uemura lash curler.
And voila, beauty portraits at home. I enjoyed this session because I got to do her makeup and photographed her as well. Now I'm hooked and looking forward to another session.
Hope you liked this post. =)