Last April 18, 2015 I had an opportunity to do a bridal hair and makeup on a client, Juvi, who found me via OLX. She opted for airbrush makeup since the ceremony was at 2pm. And that was a very hot and humid Saturday btw!
Here is how she looked like straight out of the shower. I requested for her not to use hair conditioner to prepare her hair for styling. If you'd like to see the final look please read on. =)
Juvi's skin is combination oily but her main concern were her freckles. As shown in the image above, she got freckles concentrated on the side of her cheeks. She got some breakouts too but nothing major. So I started off with Celeteque Acne Prone Oil Control Toner then used Cinema Secrets Moisture Spray all over. I let this sit on her skin and proceeded with rough drying her hair then put into sections. Then I used Maybelline Baby Skin Instant Pore Eraser on the center of her face.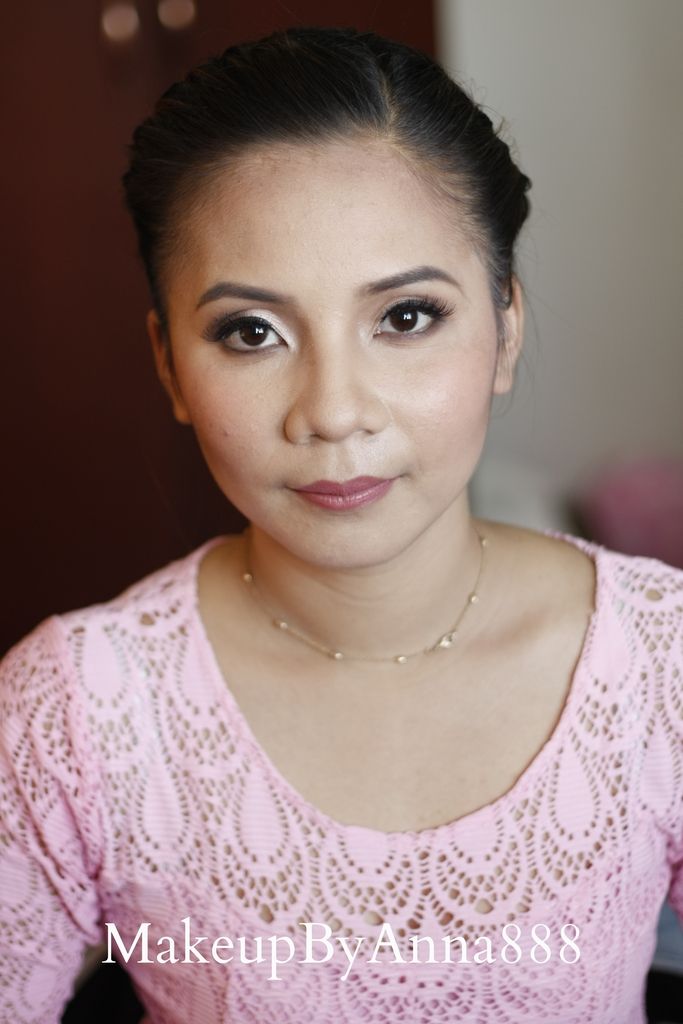 I used Graftobian corrector palette for the freckles and under eye area. Then mixed some RCMA foundation and applied all over. I used LA Girl HD Concealer to highlight under the eyes, center of her nose, forehead, upper lip and chin. Then I lightly contoured her cheeks, nose and forehead using RCMA again. I set everything with RCMA No Color powder using a powder puff.
Once the foundation was set I layered a hefty amount of Glambox Airbrush Foundation to ensure flawless coverage. Then I set it again with RCMA No Color powder. Topped the contour using Makeup For Ever Sculpting Kit. Used Graftobian cream blushes for a natural flush and mixed Graftobian lipsticks to get a medium pink lip. Oh btw, I used a combination of light and dark pink lip pencils from Essence that melted midway application. =P
Primed her eyes using Lorac eyeshadow primer then placed Maybelline Color Tattoo in Barely Branded on the inner 2/3 of her lids. Then topped this with a mixture of shimmery nude and champagne eyeshadows. I think I used a mixture of sable and espresso eyeshadows on the outer third of her lid. And highlighted the brow bone using cream. All so far are from the Lorac Pro Palette. I used a light terracotta shade from Inglot on her crease. Maybelline black gel liner on the upper lash line then Urban Decay black eyeliner pencil blended with espresso eyeshadow on the lower lash line. Lined the waterline with NYX Wonder Pencil. Applied false lashes that flares out the edges and blended her own lashes into the falsies using Maybelline mascara. On her eyebrows were Fanny Serrano eyebrow powders and NYX brow gel. Once everything's done I sprayed all over with Cinema Secrets Super Sealer.
My greatest challenge was her hair but surprisingly I came up with an easy hairstyle. She got short hair like above her shoulders. And since her gown was strapless we agreed to put her hair in a low bun using a donut. Then I did a rope braid on either side of her hair where most of her short layers were.
And tadah! Here is her final look. She wasn't in her gown yet at this stage but by the time she got her gown and tiara on she was all sweaty due to the heat. I saw her blot her face with a hand towel and her makeup didn't budge at all. It was bulletproof =P She was happy and so was I. =)